This past summer, I was hired to design a senior citizen apartment. She was moving from her current home into a new senior development and wanted a "WOW Factor!". Her words, not mine.
I met with my client and her daughter and went to work. First, I went and measured the space and took pictures. Then I made a floor plan. This is important because it allows me to see what items are going where and, most importantly, the size it requires. After that, we set a date and went shopping. Sometimes my client does come with me when I shop.
Here is the floor plan. I estimated what size would work. This way, when I shop for the item, I know the size of the item. We were shopping for a living room, dining room,  and kitchen.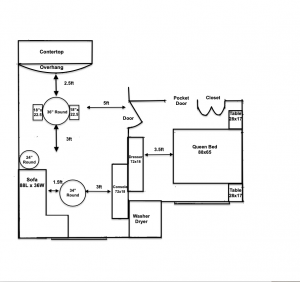 We bought all the furniture at Raymour and Flannigan since she wanted fast delivery and had a budget she needed to work with. So we did the complete shopping all in one day.
Safe to say she definitely got the "wow" factor!